Theme: Promoting excellence in dental world
Dental World 2017
The ConferenceSeries Ltd will be holding its CE accredited 20th Annual World Dental Summit from March 20-22, 2017in Rome, Italy. The theme of this year's meeting is "Promoting excellence in dental care" which will provide an international platform for discussion of present and future challenges in oral health, dental education, continuing education and expertise meeting. World-leading health practitioners, clinicians, educators and researchers will present cutting-edge and practical clinical techniques based upon widely accepted evidence and will introduce new and emerging research.
Dentists: Also called an oral surgeon who specializes in dentistry like the diagnosis, prevention, and treatment of diseases and conditions of the oral cavity.
Orthodontist: They specialized in improve the position, appearance and function of abnormally arranged teeth.
Tooth Whiting: This can be a very effective way of lightening/whiting the natural colour of the teeth.
Invisalign: It is a latest and most widely performing procedure to straighten your teeth using a custom-made series of aligners created for your teeth.
Pediatric Dentists: They are the one who are specialised in oral health of children from infancy through the teen years.
Periodontics: They specialize in diagnosis, prevention and treatment of periodontal diseases and are experts in oral inflammation and also in placement of dental implants.
Oral Surgeries: A number of conditions may require oral surgery like Impacted Teeth, Tooth Loss, Jaw-Related Problems like Unequal jaw growth, Improve fit of dentures and Temporomandibular joint (TMJ) disorders, Facial injury repair. Cleft lip and cleft palate repair and Facial infections etc.
Tooth Implants: Tooth Implants/dental implant are an artificial tooth root that are placed into your jaw to hold a replacement tooth or bridges. Dental implants may be an option for people who have lost a tooth or teeth due to periodontal disease, an injury, or some other reason.
Dental Emergency: can have many causes, including accidents, sports-related injuries, tooth decay and infection. You may have a dental emergency if you have any of the following: a traumatic injury to your mouth, jaw or teeth. Severe pain that you cannot control with OTC pain medication.
Oral Sedation Dentistry: Is a medical procedure involving the administration of oral sedative medications to facilitate easy dental procedure and reduce pain.
Dental Instruments: Tools that are used by dental professionals to provide dental treatment.
Dental Filling: Also called dental restoration is a dental material used to restore the function, integrity and morphology of missing tooth structure.
Dental Cements; These are the brittle and hard materials formed by mixing powder and liquid together.
Root Canal: it is the anatomic space within the root of a tooth.
Dental Marketing: Dental marketing is of the key toll to promote the dental practice and excellence.
Dental CE Credits: Dental World 2017 is providing 21 CE credits to all the attendees.
Dental Hygienists: Is the one who examine patients' oral cavity, gums, teeth for signs of oral diseases and abnormalities.
Dental Ceramics: These are materials that are part of systems designed with the purpose of fabricating dental prostheses that in turn are used to substitute the missing.
Oral Care Products: these are the products used for maintaining the hygiene of the oral cavity.
Dental Health Products: these are the products that are helpful for maintaining of the dental health.
Craniofacial Surgery: it is a surgical sub-specialty of oral and maxillofacial surgery, otolaryngology, plastic surgery and head & neck surgery that deals with deformities of the skull, head, face, neck, jaws etc.
Whats New
Dental World-2017 includes international attendee workshops, lectures and symposia, including a designated registration area, a refreshment break and gala lunch. Dentists can join the conferenceseries as an international member to receive discounts on registration. So come and join leading experts and allied professionals from March 20-22, 2017
Why Rome, Italy?
Rome, Italy's capital is a sprawling, cosmopolitan city with nearly 3,000 years of globally influential art, architecture and culture on display. Ancient ruins such as the Roman Forum and the Colosseum evoke the power of the former Roman Empire. Vatican City, headquarters of the Roman Catholic Church, boasts St. Peter's Basilica and the Vatican Museums, which house masterpieces such as Michelangelo's Sistine Chapel frescoes.
Rome is in the Lazio region of central Italy on the Tiber river (Italian: Tevere). The original settlement developed on hills that faced onto a ford beside the Tiber Island, the only natural ford of the river in this area. The Rome of the Kings was built on seven hills: the Aventine Hill, the Caelian Hill, the Capitoline Hill, the Esquiline Hill, the Palatine Hill, the Quirinal Hill, and the Viminal Hill. Modern Rome is also crossed by another river, the Aniene, which flows into the Tiber north of the historic centre.
Pilgrimage:
Rome has been a major Christian pilgrimage site since the Middle Ages.
Architecture:
Rome's architecture over the centuries has greatly developed, especially from the Classical and Imperial Roman styles to modern Fascist architecture. Rome was for a period one of the world's main epicentres of classical architecture, developing new forms such as the arch, the dome and the vault.
Economy:
Being the capital city of Italy, Rome hosts all the principal institutions of the nation, like the Presidency of the Republic, the government (and its single Ministeri), the Parliament, the main judicial Courts, and the diplomatic representatives of all the countries for the states of Italy and the Vatican City (curiously, Rome also hosts, in the Italian part of its territory, the Embassy of Italy for the Vatican City, a unique case of an Embassy within the boundaries of its own country)
Track 1: Basic Dentistry and Dental Ethics:
Dentistry is commonly defined as the evaluation, diagnosis, prevention and or treatment (nonsurgical, surgical or related procedures) of dental, oral cavity, maxillofacial area diseases or conditions and the adjacent and associated structures and their impact on the human being. Studies and advances in some dental branches such as Restorative dentistry, Veterinary dentistry, and Cosmetic dentistry/Aesthetic dentistry encouraged the researchers to expand and explore the potential for regenerating functional teeth. Sedative dental practice refers to the use of chemical or the pharmacological agents to calm and relax the patient prior to and during a dental appointments and treatments . To make oral health convenient, economic & efficient, members of the dental team and Dental World, Rome focus on following in detail.
Ethics is a field that deals primarily with moral duties and judgment. The dentists and the dental practice are controlled by many laws on the federal, state, and local laws. Dental Ethics deals moral duties and obligations of the dentists towards their profession, patients, colleagues and society. "Dental World Summit" helps to promote the welfare and equality of human life.
Sub-Tracks:
Primary care and dental health education
Current challenges in dental education
Dental professionalism and laws
Responsibilities towards patients
Organizations of oral health systems
Dental epidemiology and public health
General awareness in dentistry
Track 2: Dental Surgeries and innovations:
Dental Surgery is surgery of the teeth and jaw bones. There are several reasons why people choose and undergo a dental surgery. Dental surgery is directly related to the dental and oral health and care. There are different types of dental surgeries. The dental surgeries are performed by a qualified Dental and Oral health Surgeon. Root canal treatments and Extractions also come under dental surgeries; these however can be conducted by a dentist in a clinic.
Types:
1. Endodontics (surgery involving the pulp or root of the tooth) Root canal.
i) Pulpotomy: The opening of the pulp chamber of the tooth to acquiesce an infection to drain, usually a precursor to a root canal
ii) Pulpectomy: The removal of the pulp from the pulp chamber to transiently relieve pain; usually a precursor to a root canal.
iii) Apicoectomy : A root-end resection. Sometimes a root canal alone will not be enough to relieve pain and the end of the tooth called the apex that will be detached by entering through the gingiva and surgically obtaining the diseased material.
2. Prosthodontics (Crowns or Caps: Artificial coverings)
i) Veneers: Artificial coverings similar to above, except that they only cover the forth (labial or buccal) shallow of the tooth, usually for aesthetic purposes only.
ii) Bridges: A fixed prosthesis in which more than two crowns are connected together, which replace a missing tooth or teeth through a bridge. Normally used after an extraction.
iii) Implants: A procedure in which a titanium implant is surgically placed in the bone (mandible or maxilla), allowed to heal and 4–6 months later an artificial tooth is connected to the implant by cement or by a screw.
iv) Dentures (false teeth): A partial or complete set of dentition which either attached to neighbouring teeth using a metal or plastic grasps or to the gingival or palatal surface by with the help of adhesive.
3. Orthodontics: Also called orthodontics and dentofacial orthopedics
i) Implants and implant-supported prosthesis: Also a type of orthodontic treatment as it involves bones
ii) Extraction: A procedure in which a diseased, redundant, or problematic tooth is removed either by pulling or cutting off. This procedure can be done under local or general anesthesia and is very common. Many people have their wisdom teeth removed before they become problematic.
iii) Fiberotomy: A procedure to cut off the fibers around a tooth, preventing it from relapsing.
4. Periodontics: It also one of the specialties of dentistry that deals with supporting structures of teeth, as well as diseases and conditions that affect them.
5. Cosmetic Dental Surgeries: Deals with the misalignment of the jaws or the dental implants.
Sub-Tracks:
Prosthodontics
Orthodontic
Endodontic
Periodontics
Procedures and methods
Techniques and experience
Technology and innovations
Complications in surgery
Management of cleft lip and palate
Track 3: Dental Nursing and Ethics:
Nursing is a profession of the health care sector attentive on the care of individuals, families, and communities so they may attain, conserve or recover excellent health and quality of life. A Dental Nurse supports the dentist in all aspects of patients' dental care. As a dental nurse, you may help with reception work and could help any member of the dental team clinical and dental technicians/technologists, hygienists and therapists – treat patients of all ages. Some specialised for a check-up while others will have more complicated treatment. You'll need to reassure people and put them at calm, while supporting the team in all aspects of patient health or care
In a dental practice you will welcome patients and provide direct backing with the treatment itself: Taking responsibility for the decontamination of instruments, upholds dental practicing equipment ensuring that all relevant materials and supplies are in place, looking after patient records including the notes when the dentist is checking a patient, working closely with the dentist, responding quickly to queries and generally keeping the surgery ready for use.
Sub Tracks:
General dental responsibilities
Dental sedation nursing
Special care dental nursing
Inpatient and outpatient care
Orthodontic nursing.
Track 4: Oral and Maxillofacial Surgery & Innovations:
Oral and Maxillofacial surgery is unique in requiring a dual qualification in medicine (Dental anesthesiology) and dentistry, and is often seen as the bridge between medicine and dentistry, treating conditions that require expertise from both backgrounds such as head and neck cancers, salivary gland diseases, facial disproportion, facial pain, temporomandibular joint disorders, impacted teeth, Pediatric craniofacial and cleft surgery, Antibiotic prophylaxis and early dental implant failure, cysts and tumors of the jaws as well as numerous problems affecting the oral mucosa such as mouth ulcers and infections and also diagnosis and management of dento-facial deformities.
Sub-Tracks:
Technique and experience
Dental anesthesiology
Diagnosis and management of dento-facial deformities
Oral health and management
Antibiotic prophylaxis and early dental implant failure
Technology and innovations in oral and maxillofacial surgeries
Track 5: Dental Products and Marketing
The first and foremost key to any marketing campaign, no matter the business is to develop its brand identity that embodies who you are, what is your core values are, and what you are offering as your services. Dental product and its marketing is at very high peak these days. United States demand for dental products and materials will increase 3.4 percent yearly to $12.7 billion in 2019. Cosmetic dentistry products and repair/restorative products will be the fastest growing professional products these days. Among the all consumer products, value-added formulations, such as toothpaste will derive from the dominant segment. Ceramics, Polymers and minerals are very important dental materials.
Sub-Tracks:
Repair & Restorative Products
Prosthetics
Crowns & Bridges
Implants
Dentures
Different types of fillings
Cosmetic Products
Process Materials
Impression Materials
Preventive Products
Consumer products (Toothpaste, Tooth brushes, Mouth washes etc.)
Track 6: Dental Pain, Complications and Treatments:
Fear of Pain is the main reason people avoid to go to the dentist. The good news is that there is a wide array of medicines and techniques used alone or in combination with other that can reduce or eliminate pain and control anxiety during most of the dental procedures. In this track you will be finding many eminent and experienced practitionars who performs these treatments with latest tools and techniques that may help in reducing the pain during and after the treatments.
Sub-Tracks:
Pain threshold
Neuralgia
Severity of pain
Pain management
Gum problems
Pain killers
Pain before, during and after treatment.
Track 7: Holistic dentistry:
Holistic dentistry also called biological dentistry, biologic dentistry, alternative dentistry, unconventional dentistry, or biocompatible dentistry is the equivalent of complementary and alternative medicine for dentistry. Holistic dentistry emphasizes approaches to dental care said to consider dental health in the context of the patient's entire physical as well as emotional or spiritual health in some cases.
Holistic Dentistry acknowledges and deals with the mind, body, and spirit of the patient, not just his or her "Teeth".
Holistic dentistry lays out the following basic principles:
Sub-Tracks:
Principles

Dental

M

alocclusion

Dental toxins
Track 8: Pediatric Dentistry
Pediatric dentistry (formerly pedodontics) is the branch of dentistry that deals with the children from birth through adolescence. Pediatric dentists promote the dental health of children as well as serve as educational resources for parents. Now a days dental problem in children is very common due to unusual eating habits and maintaining the poor oral hygiene. This may leads to the serious complication in the future if not maintained or treated properlyIt is essential to have a dental visit within six months after the presence of the first tooth or by a child's first birthday. This is because early oral examination aids in the detection of the early stages of tooth decay. Early detection is essential to maintain oral health, modify aberrant habits, and treat as needed and as simply as possible.
Sub-Tracks:
Eating habits and dental problems
Early detection of the tooth decay
Factors influencing the tooth decay in children
Dental and oral problems and risk
Management and treatment
Craniofacial and cleft surgery
Track 9: Dental Tools and Treatment Techniques:
Dentistry has seen massive improvements with respect to advancement from the traditional techniques to the digital world that has widened the scope of dental treatments and procedures. Digital dentistry tools and techniques used at present include the Laser applications, Dental implants and occlusal analysis, Forensic dentistry, Dental radiography/informatics, Robotic and digital dentistry and Imaging techniques for the craniofacial hard and soft tissues.
In this treack you can find different techniques and methods of most of the dental treatment.
Sub-Tracks:
Imaging techniques for the craniofacial hard and soft tissues
Evolving instrumentations in dentistry
Dental implants and occlusal analysis
Drug delivery systems involved in dental treatments
Dental ceramics, grinding and polishing treatments
Robotic and digital dentistry
Laser applications for dental hygiene
Dental radiography/informatics
Forensic dentistry
Track 10: Endodontic and Hypnodontic.
The endodontic specialist is responsible for the advancement of endodontic knowledge through research, the transmission of information concerning the most recent advances in biologically acceptable procedures and materials; and the education of the public as to the importance of endodontics in keeping the dentition in a physiologically functional state for the maintenance of oral and systemic health.
Pathologies of Pulp and Periapex
Diagnostic Procedures
Endodontic Instruments
Asepsis in Endodontics
Cleaning and Shaping of Root Canal System
Access Cavity Preparation
Track 11: Sports Dentistry
Sports Dentistry is the treatment and prevention of oral-facial athletic injuries and related oral diseases. Sports dentistry has a major role to play in this area. It mainly includes the prevention and management of athletics-related orofacial injuries and associated oral diseases. The sports or team dentist assists athletes in the prevention, treatment, and diagnosis of oral injuries.
Sub-Tracks:
Management of dental injuries and pain
Dental physiotherapy and pain management
Dental physiotherapy and pain management
Dental injuries and complications
Prevention of oraofacial athletic injuries and related oral diseases
Concussion: management and prevention
Physiological, psychological aspects of dental and oral injuries
Track 12: Oral Cancer and Other Disease
Oral Cancer a type of head and neck cancer is any cancerous tissue growth located in the oral cavity. It may arise as a primary lesion originating in any of the tissues in the mouth, by metastasis from a distant site of origin, such as the nasal cavity. Alternatively, the oral cancers may originate in any of the tissues of the mouth, and may be of varied histologic There are several types of oral cancers, but around 90% are squamous cell carcinomas, originating in the tissues that line the mouth and lips. Oral or mouth cancer most commonly involves the tongue. It may also occur on the floor of the mouth, cheek lining, gingiva (gums), lips, or palate (roof of the mouth). Most oral cancers look very similar under the microscope and are called squamous cell carcinoma, but less commonly other types of oral cancer occur, such as Kaposi's sarcoma.Most infections of the oral cavity, including the major dental caries, dento facial deformity and periodontitis, are opportunistic in nature. Common treatments used for the prevention of oral diseases are surgical pathology, maxillofacial trauma prevention methods and therapeutics.
Sub-Tracks:
Types of oral cancer
Early detections of the oral cancer
Management and treatment
Surgical pathology
Therapeutics
Market Analysis Report:
Glance at Market of Dental World:
The global dental equipment market revenue is expected to increase from USD 6,081.4 million in 2013 to USD 8,453.7 million by 2020, growing at a CAGR of 4.9% from 2014 to 2020. Costs across Europe for dentistry therefore vary widely between individual countries and are also linked to the economic development and status of each State The global dental equipment market is predicted to exhibit a compound annual growth rate (CAGR) of 9% to reach over $13 billion by 2016, The dental equipment market is fuelled not only by the prevention and treatment of disease, but also in large part by cosmetic dentistry, which sees an annual expenditure of $2.75 billion in the US alone. Tooth whitening procedures attest to soaring demand for cosmetic dentistry, with a 300% increase over the past five years. The global dental implants market is expected to grow from $3.2 billion in 2010 to $4.2 billion in 2015 at a CAGR of 6% from 2010 to 2015. Europe currently forms the world's largest market for dental implants with a 42% market share, and is also expected to have the highest CAGR 7.0% from 2010 to 2015.
In Italy, 1.4% of the GDP is spent on oral health. 97% of this cost is expenditures in private practices. In 2012 one family would spend €1500 per year with dental care. overall healthcare spending varies greatly across the countries of the EU, it is impossible to accurately state what proportion of this is dental expenditure. Interpretation of dental varies greatly and in many countries the majority of expenditure is in the private sector and difficult to quantify. (6)
Major Dental Associations around the globe:
World Health Organization (WHO)
FDI World Dental Federation
International Association for Dental Research (IADR) & American Association for Dental Research (AADR)
National Institute of Dental and Craniofacial Research (NIDCR), Office of International Health
Pan American Health Organization (PAHO) Major Dental Associations in Europe
Dental Chamber of Bosnia & Herzegovina
Association of Dentists in Bulgaria
Croatian Dental Chamber
Cyprus Dental Association
Czech Dental Chamber
Association of Public Health Dentists in Denmark
Danish Society of Periodontology
European Federation of Periodontology
Icelandic Dental Association
Associazione Nazionale Dentisti Italiani (ANDI)
Statistical Analysis of Associations:
Figure 1: Statistical Analysis of Associations
Target Audience:
The professors, Dentists, researchers, clinicians, educators, program developers Marketing, and Students from Academia in the study of Dental and Oral Health field.
Target Audience:
Academia 60%
Industry 30%
Others 10%
Statistical Analysis of Targeted Audiance: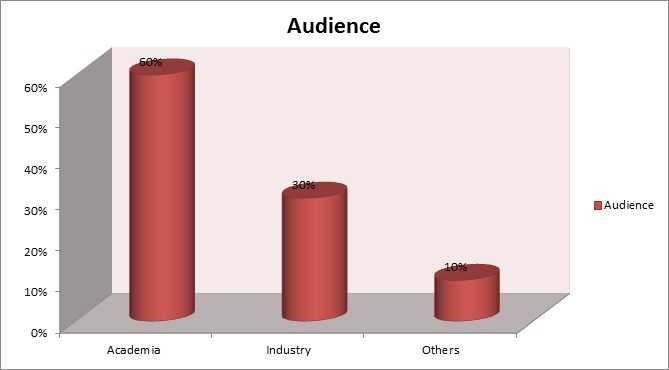 Figure 2: Target Audience
Top Universities in Italy:
University of Siena
University of Pavia
University of Palermo
University of Parma
University of Insubria
University of Perugia
University of Pisa
University of Napoli
Università Cattolica
University of Modena
University of Padova
Statistical Analysis of Top Universities:
Figure 3: Top Universities
Companies Associated with Dental & Oral Health
AmannGirrbach GmbH
Castellini S.p.A
Coltène/Whaledent AG
Dentatus AB
Durr Dental GmbH & Co. KG
Ivoclar Vivadent AG
Larident Srl
Ormco Europe
Peri-dent Ltd
Statistical Analysis of Companies Associated with Dental & Oral Health: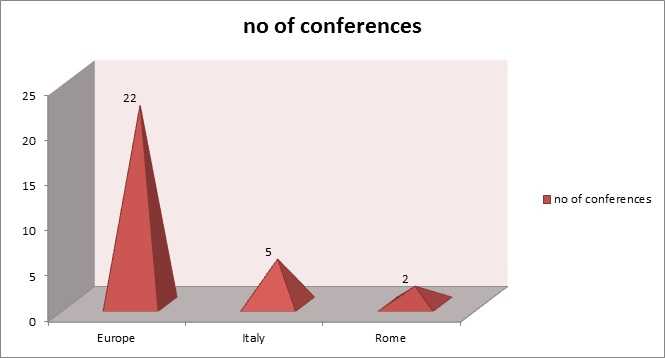 Figure 4: Dental Conferences in 2016
Dental Conferences
Market Value:
| | | | |
| --- | --- | --- | --- |
| Data | Percentage | Year | Source |
| % GDP Spent on Health | 9.20% | 2012 | OECD |
| % of this spent by government | 78.20% | 2012 | OECD |
| | |
| --- | --- |
| Schools and Institutions | Number |
| | |
| Number of Public Schools | 34 |
| Number of Private Schools | 3 |
| Number of Hygienist schools | 32 |
| Dental Student intake | 1000 |
| Number of Graduates | 900 |
| Female percentage | 47% |
| Data | Number |
| | |
| General Practice | 56000 |
| Publics Dental Service | 4500 |
| Hospitals | 300 |
| Armed Forces | 100 |
| General Practice as a proportion in | 92% |
| Dental Companies | 1538 |
| Dental Clinics | 5060 |
To share your views and research, please click here to register for the Conference.
To Collaborate Scientific Professionals around the World
Special Issues
All accepted abstracts will be published in respective Our International Journals.
Abstracts will be provided with Digital Object Identifier by
---
Conference Series Destinations